Advisory Board
Celebrating More than a Decade of Service to our Community
We are very excited to be celebrating over 20 years of providing high quality, in-depth reviews of adolescent and young adult topics of clinical relevance. The Jon E. Nadherny/Calciano Memorial Youth Symposium Committee is a multidisciplinary team representing key professions and organizations in our community. We are dedicated to bringing you excellent topics from nationally renowned speakers.
Karen Gosling MS, MPT
Symposium Chair
Karen Gosling received her bachelor's degree in Sport Science at Chelsea School of Human Movement in England, her Masters Degree in Health, Physical Education and Recreation from Syracuse University and her Masters in Physical Therapy from USC. She has worked at Dominican Hospital since 1996 and is currently the Director of Health and Rehabilitation. Karen is committed to the health and wellbeing of the Santa Cruz community, and enjoys working with this team of dedicated professionals.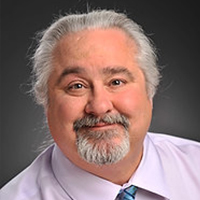 George Jarrow, RN
Emeritus
George received his nursing degree from the State University of New York at Alfred in 1979. He has worked in the Mental Health field since 1981, and had been at Dominican Hospital in Santa Cruz for 33 years. He retired from Dominican in 2016. He is also the past chairperson of the Jon E. Nadherny / Calciano Memorial Youth Symposium Advisory Committee. His passion for this cause is deeply rooted in his desire to collaboratively see human tragedy transformed into hope and opportunity.
Nicholas Calciano, MBA
Board Member
Nicholas, the youngest brother of Jon,  received his Bachelor's of Science in Finance in 2017 and his Masters of Business Administration, Finance in 2020 from Saint Mary's College of California. He presently works for Ross Stores, Inc. in the finance department. In 2019, Nicholas joined the advisory board of the symposium as a family representative. He finds his work on the advisory board to be healing and therapeutic in dealing with the tragic loss of his brother. Nicholas' responsibilities involve bringing financial background knowledge to ensure sustainability and marketing of the annual symposium event.
Joshua Nadherny-Calciano, MSN, RN, CNL
Board Member
Joshua is the younger brother of Jon Nadherny. He received his bachelors of science in Biochemistry and in Molecular Biology, from the University of California Santa Cruz in 2000. Joshua received his masters in nursing from the University of San Francisco in 2012. He works for the Department of Veterans Affairs as a nurse administrator.  He finds his service on the Jon Nadherny / Calciano Memorial Youth Symposium advisory committee to be very therapeutic in dealing with the tragic loss of his brother.
Paul Bellina, MFT
Board Member
Paul received his bachelors of arts in 1968 from the University of California Santa Barbara. He received his masters in counseling from San Francisco State University in 1974. Retired after 25 years as the Acute Services Program manager for Santa Cruz County Mental Health. His responsibilities included management of all transitional youth and older adult services to the Santa Cruz County Jail Psychiatric Services and county contracted impatient Behavioral Health Services at Dominican Hospital.
Carol F.Berman, LCSW
Board Member
Carol F. Berman received her MSW in 1970 at the USC School of Social Work where she became interested in working with children and adolescents; she eventually moved to Santa Cruz and continued working with youth at Family Services and Youth Services while working towards her License in Clinical Social Work in 1984. She opened a private practice in the Mid County area of Santa Cruz in 1986, and her practice became more oriented to young adults and later to older adults and more recently to seniors at Family Services of the Central Coast in Watsonville and Santa Cruz. Carol has been a consultant with the steering committee of the Calciano/Nadherny Youth Symposium for 20 years, having personally known the families and children, including their brother Jon who committee suicide. She sees herself as a chronicler and historian of the conference, especially for new members on the steering committee, and also gives input to the ideas and direction it takes. She is semi-retired and currently volunteers  with the American Red Cross Mental Health Committee.
Diane Bridgeman, PhD
Board Member
Dr. Bridgeman is a licensed clinical psychologist, serves on several national & local boards, and presents nationally & internationally. Dr. Bridgeman finds her approximately 20 year service on the "Jon Nadherny / Calciano Memorial Youth Symposium" advisory committee to be an important community public education endeavor and the effort very rewarding as it's annual high-level presentation's not only seeks to inform but also to contribute to preventing serious mental health concerns. The combination of nationally known presenters with local professional speakers have proven to be highly effective, all within a collaborative, interdisciplinary team of planning committee members."
Justin Cummings, PHD
Board Member
Dr. Justin Cummings is an environmental scientist with over 20 years of experience studying and working on issues such as climate change, habitat restoration, social and environmental justice, and environmental conservation.  More recently he has transferred his skills to secure grants to create and manage non-profit STEM education and professional workforce development programs centered on promoting diversity, equity and inclusion in emerging tech and environmental conservation sectors.  In 2018, he was one of two black men elected to the Santa Cruz City Council for the first time in history and in 2020 was the first Black Mayor for the City of Santa Cruz.  As a City Council member, his work has focused on promoting affordable housing and protections for our most vulnerable community members, strengthening the relationship between public safety and communities of color, advocating for the expansion of alternatives to crisis response, environmental protection, and promoting diversity, equity, and inclusion in all policy decision making among many other topics.  Dr. Cummings is also a fluent Spanish speaker and holds a BA in Spanish and a BS in Biology from Eastern Illinois University, and a Ph.D in Ecology and Evolutionary Biology with a designated emphasis in Environmental Studies from UC Santa Cruz.
Linda Calciano, PhD
Board Member
Dr. Calciano is the mother of Jon Nadherny. She received her doctorate from the University of California Santa Cruz in 1989. Her doctorate was in Physical Organic Chemistry and continued her post doctorate in Biochemistry at UC, Berkeley. With support from her family Linda along with Bob Semas, founded the Jon E. Nadherny / Calciano Memorial Youth Symposium in 1997. Throughout the ensuing years this symposium has grown to serve the greater Santa Cruz County Community. In addition to her devotion to this mission Linda actively participates in the Dominican Hospital Foundation Guild, which helps support this annual conference.
Stan Einhorn, PhD
Board Member
Dr. Einhorn completed his undergraduate and master's degrees at the University of Pennsylvania and his Ph.D. in psychology at the California School of Professional Psychology. He is clinically trained in the Internal Family Systems (IFS) school of psychotherapy and has presented workshops at IFS international conferences. He has worked for public mental health agencies for over twenty-five years and presently is a Program Manager for Santa Cruz County Behavioral Health Department. He also has a private practice in Santa Cruz. The value of collaborative learning and cooperative treatment approaches to benefit youth as championed by the Jon E. Nadherny / Calciano Memorial Youth Symposium, for the past 20 years, is what encouraged Dr. Einhorn to join the organization's planning efforts.
Debbie Joy, DDS
Board Member
Dr. Joy is the aunt of Jon Nadherny. She received her masters in Chemistry from the University of California Santa Cruz. She received her Doctorate in Dental Science from University of California San Francisco in 1989. She recently retired in 2003 and lives in Scotts Valley with her family. She finds her service on the Jon Nadherny / Calciano Memorial Youth Symposium advisory committee to be very therapeutic in dealing with the tragic loss of her nephew.
Suzanne Nicholas, PhD
Board Member
Dr. Nicholas is a licensed Psychologist who maintains a private practice in Santa Cruz working primarily with adolescents and young adults. Previously, she has been on the staff of U.C. Santa Cruz Counseling and Psychological Services in the Residential Crisis Program and also been a counselor with Santa Cruz City Schools working with at-risk youth in Costanoa and The Ark High Schools. Serving on the Jon Nadherny / Calciano Memorial Youth Symposium advisory committee
allows Dr. Nicholas to be a part of a valuable and dynamic organization that helps to bring important and timely education and training about our youth to the Santa Cruz community.
Michael Paynter, Ed.D., LMFT
Board Member
Michael Paynter, Ed.D., LMFT, is Director of the Student Support Services Department at the Santa Cruz County Office of Education, where he manages programs assisting vulnerable youth populations in the schools such as those experiencing homelessness, foster care, probation, gang involvement, mental health and/or substance use issues A recent graduate of San Jose State University's Doctoral Program in Educational Leadership, his research focused on school culture and climate in Alternative Education Settings.
Bob Semas
Board Member
Mr. Semas is the former Executive Director of the Dominican Hospital Foundation. Bob is pleased to have assisted the Nadherny / Calciano family in conceptualizing the symposia and has remained active in the planning and logistics of each symposium since its inception in 1995. As Symposium Treasurer, Bob collaborates with the Dominican Hospital Foundation managing the endowed and restricted funds that underwrite the cost of the annual symposia.
Jen Hastings, MD
Board Member
Jen Hastings, MD is Assistant Clinical Professor, UCSF, Department of Family and Community Medicine, Consulting Physician for the Health Improvement Partnership of Santa Cruz County, and Co-Medical Director with Encompass of Santa Cruz County. Jen has been working with Safe Rx Santa Cruz since its inception in 2015, increasing access to Medication Assisted Treatment and Naloxone, and developing Pain Management Guidelines. As the physician at Planned Parenthood Westside for 20 years, Jen piloted Integrated Behavioral Health, mindfulness approaches to care, and transgender care. 
Jen continues work with the Transgender Community, teaching nationally and internationally, and has been teaching Mindfulness with local community centers and the Pajaro Valley Unified School District. As part of the California Health Care Foundation Leadership Fellowship, Jen worked with Encompass to open the Mindfulness-Based Medication Assisted Treatment Program in August of 2018.
Christina Borbely, PhD
Board Member
Christina Borbely PhD ["borbay"], is a developmental psychologist in Aptos, CA. She strives to support equitable and thriving communities. With an emphasis on real world application of behavioral and mental health sciences, Christina is a committed partner on a spectrum of projects. Christina organizes professional development opportunities for the workforce of staff and community partners at Santa Cruz County California Behavioral Health Services, and leads a consulting firm specialized in translating research science into developmentally relevant and culturally competent practices.
Julie Norton, LMFT
Board Member
Julie graduated from University of San Francisco (USF) and is a Licensed Marriage and Family Therapist with a private practice in Santa Cruz and Santa Clara counties, providing counseling and psychotherapy for adults and youth. Julie appreciates being on the Advisory Board of the Calciano Youth Symposium.
Gabriel Ramirez, MA
Board Member
Gabriel is a graduate student in Saybrook University's Clinical Psychology PhD program.  He worked as an elementary teacher and school administrator for over 16 years with minority students and families.  He became interested in psychology as a means to support children, adolescents and families during his tenure as an educator.